Tank Mounted Screw Air Compressor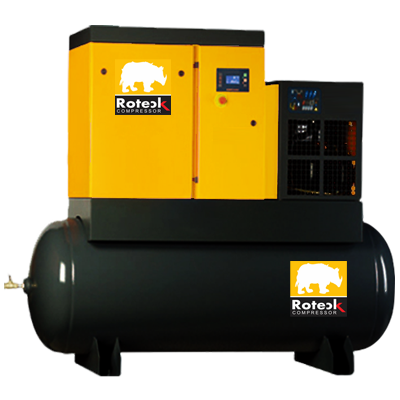 Tank Mounted Screw Air Compressor
Product Description
Our company is providing optimum quality Tank Mounted Screw Air Compressor that is extensively used for smaller applications in numerous industries. Besides this, it is highly admired for its easy installation as well as reliability and cost effectiveness. Apart from this, Tank Mounted Screw Air Compressor has a compact design which does not require much space and provides high strength, longer service life, anti-corrosive nature, seamless finishing, polished surface and more. It is accessible in various sizes, shapes and other specifications as per required by the customers.

About Tank Mounted Screw Air Compressor :-
By what method can compressed air framework enable you to build productivity? The appropriate response is extremely truly basic: by guaranteeing that you accomplish the most elevated efficiency in your shop while diminishing the aggregate expense of possession to unquestionably the least dimensions.
Life Time Advantage :-
Attachment and-play straightforwardness - takes out the main sources of error in air frameworks: mistaken installation and sizing.
Practically no introduction costs- - takes out 80% of introduction time, costs and material. Necessary packs spare important floor space for different employments.
Lifetime control investment funds through profoundly proficient parts.
Expanded profitability through better air quality.
Kills corrosion and water bringing about broadened device and hardware life.


Extreme Dependability :-

Our business is so certain about the execution of these Mounted Screw Air Compressor that we offer an option of maintenance agreement packs intended to furnish you with greatest working security. Shrewd coordination takes out holes and weight drops, guaranteeing greatest unwavering quality.


Extreme Effectiveness :-

Conveys more air for less drive.
Sparing many dollars for every year on energy.
Eliminates inefficient emptied running by coursing the blower on/off
Extreme Adaptability :-

With a disentangled, simple to keep up structure and long life segments, an inconvenience free task is given compact machine configuration gives least working space.
A Progressive Headway :-
Going a long way past joining the Compressor, Filters & Dryers in a single pack, savvy combination likewise disposes of interconnecting piping.
Limits weight drops and errors.
Coordinates the blower, dryer and channel into a energy diminishing and advanced framework.
Consolidates the whole supply-side framework into one murmur calm bundle pack.
Empowering establishment practically anyplace.
Gives liberal space to elevate cooling and to permit unhindered service.
Trade Information
Wooden box, poly bag

Africa, Asia
All India

ISO-(9001:2015)